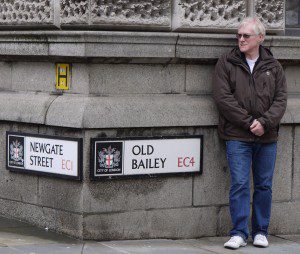 Maybe it's because I'm a Londoner
The American judge Oliver Wendell Holmes, who visited London often in the 19th century, once observed: "No person can be said to know London. The most that anyone can claim is that he knows something of it." I have lived in the capital all my life and still feel I have a lot to learn.
London constantly evolves. In just my own life I have seen a great deal of change: new buildings that replaced those destroyed in the Second World War; the BT Tower and all the tall buildings in the City that sprang up from the '60s; Docklands replacing the London docks; the Docklands Light Railway and the ever-expanding railway network; the Olympic Park; and the recent regeneration of the King's Cross area to name just a few obvious examples. It seems almost every week new plans are announced for the regeneration of one part of London or another. It is that constant progression that I find so interesting and as I have grown older I have found myself wanting to learn about how London evolved to this point.
I come from a family of Londoners, stretching back many generations. My mother tells wonderful stories of growing up in the East End during the Second World War and has traced our ancestors back to at least the beginning of the 18th century. Many of the male line on her side of the family worked as watermen on the Thames and there is talk of one being a Warden of London Bridge in the 15th century.
As long as I gaze on Waterloo sunset I am in paradise
With hindsight, my interest began in my early teenage years whilst growing up in a North London suburb. During school holidays friends and I would buy a one-day bus pass – what in those days was called a Red Rover – and travel bus routes from one end to the other, discovering new places we hadn't previously visited. A little later I saw more of the town as I earned pocket-money working as a van-boy, delivering groceries around town, particularly in East and Central London. I still have memories from that time of the final days of London's docks, although even by then the port was a shadow of its former self. My North London suburb soon began to seem less interesting than the glamour of what could be found in other parts of the capital. There was music. And lights. And much more.
So life moved on, which led to twelve years living on a narrowboat on London's canals, another absorbing world full of heritage and character.
Regularly escorting overseas visitors around the tourist highlights led to studying London's history: reading books and visiting many places of interest. Two thousand years. It's a lot to take in. In the past fifteen years or so I have recorded what I have learnt, building a sizable database of historical information. I have recently completed work on my first book: THE HISTORY OF THE PORT OF LONDON – A VAST EMPORIUM OF ALL NATIONS, published by Pen & Sword History in August 2017.
I welcome feedback so please email me here. If you use Twitter you can follow me @LondonStone. I am active on Facebook at both The History of London and Docklands History Group. I am also a member of London Historians, which I thoroughly recommend if you want to meet others who share our interest. You'll find me at some of the events, usually with a pint in hand, so look out for me.
Peter Stone